It was a good night in Atlanta as the Hawks came out with a win in Jamal Crawford's return to the Highlight Factory. Hawks superstar Joe Johnson poured in 24 points and Josh Smith had added a double-double with 17 points and 11 rebounds.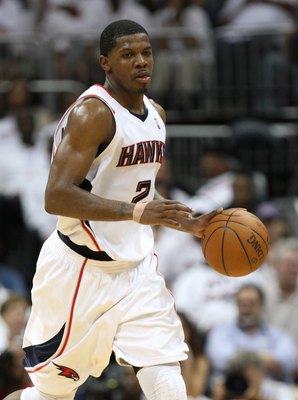 Hawks SG Joe Johnson
Blazers PF LaMarcus Aldridge
Portland's Jamal Crawford had 22 points and star forward LaMarcus Aldridge had 20 points and 11 rebounds. Despite their 8-6 record, this is a talented Trailblazers team that has a lot of potential and that can make a run in the West. They've beaten the Lakers on numerous occasions and are playing well despite losing one of their all-star guards Brandon Roy to injuries on both of his knees that cost him to retire. A five year veteran who was unquestionably Portland's best player and it's always sad to hear that a player has to have his career cut short due to a serious injury.
After a slow first half for both teams, the Hawks ended the third quarter on a 13-0 run while Portland answered back and went on a 14-0 run to start the fourth quarter. Great shooting from Joe Johnson and great play from Josh Smith helped Atlanta take the lead back and didn't look back since. The Blazers didn't want to go away and kept on fighting but in the end it was Atlanta who was the team who got the better result.
Since Horford went down, many players have stepped up, both the starters and the bench. Sensational rookie Ivan Johnson and Zaza Pachulia, who's been with Atlanta for seven seasons, has helped fill that void. The Hawks have also had fantastic shooting from Willie Green and Vladimir Radmanovic. Tracy McGrady has also showed that he has some gas left in the tank, and is greatly contributing to this talented Atlanta Hawks team.
The Hawks improve to 11-4 and play the 10-4 Philadelphia 76ers on Friday. Atlanta continues to make a statement in the NBA and is riding a four game winning streak since all-star center Al Horford went down with a shoulder injury that will put him out for the season. Joe Johnson and Josh Smith each have improved their statistics in every category.
The Hawks take their momentum to Philly on Friday and are hoping to pull out another big win. Keep on looking out for my blogs and I hope you have enjoyed them all so far. So until then, GO HAWKS!!!!-Yuriy A