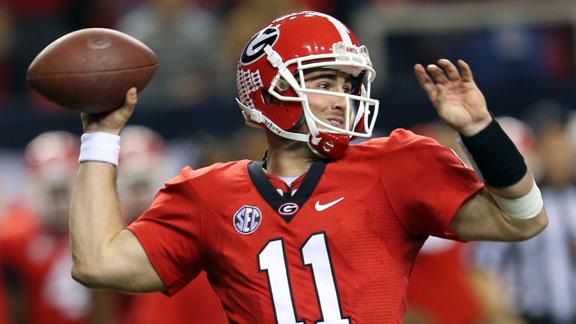 UGA QB Aaron Murray
The Georgia Bulldogs came out strong after a heartbreaking loss to Alabama in the SEC championship game last month. UGA QB Aaron Murray had a phenomenal game in what may be his last game at the University of Georgia.
Aaron Murray went 18/33 for 427 yards, five touchdowns, and two interceptions. WR Chris Conley had two catches for 136 yards and two touchdowns. Senior WR Tavarres King had three catches for 104 yards and one touchdown. RB Todd Gurley had 23 carries for 125 yards and one touchdown. The offense had 589 yards in total offense.
Nebraska QB Taylor Martinez went 16/27 for 204 yards, two touchdowns and two interceptions. RB Rex Burkhead had 24 carries for 140 yards and one touchdown. He also had four catches for 39 yards and one touchdown. The Bulldogs completely shut down Nebraska's wide receivers as none of them caught at least 50 yards.
Nebraska QB Taylor Martinez
Georgia fought hard and was motivated after they felt that they deserved a better bowl game. They were five yards short away from beating Alabama in the SEC championship game and were heart broken after not being able to go to the national championship. They finished 12-2 and head coach Mark Richt will have many spots to fill after losing key players to the NFL. Among them are All-American linebacker Jarvis Jones, Alec Ogletree, and WR Tavarres King.
After the South Carolina game in mid-October, everybody wrote Georgia off. The Bulldogs proved the critics wrong and won the rest of their games and one of them included a win over the #2 ranked Florida Gators. Some of the challenges of next season will be facing Clemson in the opening game, LSU, and South Carolina. This team proved that they're championship ready and will still be a contender. Everybody in Athens will be praying that Aaron Murray stays at UGA for one more year.
I appreciate the support from all of you on viewing my blogs and watching me cover the Georgia Bulldogs throughout this year. Hopefully more improvements will be made with the team and they will have bigger championship opportunities next year. So until next time, GO DAWGS-Yuriy A.