It was a wild year for the Atlanta Falcons. They had a 13-3 regular season record and an amazing run but ended in a loss to the San Francisco 49ers in the NFC Championship game. From all of their fourth quarter comeback wins to their playoff win against Seattle, it was an exciting season.
Falcons' QB Matt Ryan
The Falcons had a lot of pressure on them heading into training camp. The critics constantly bashed them by saying that they couldn't win a playoff game. This is mainly due to the Falcons' high quality performance in the regular season but not in the playoffs. Atlanta wanted to get their first playoff win since 2004 and achieve higher aspirations.
The Falcons surprised everybody and started the season 8-0. Their first loss came against the rival New Orleans Saints in the Super Dome. Atlanta had many opportunities to get into the end zone in the second half but just couldn't capitalize. The Falcons then went 2-2 in their last four regular season games. Another key victory was on December 16th against the defending Super Bowl Champion New York Giants. Atlanta won in a blowout, 34-0.
QB Matt Ryan had an outstanding season. He threw for 4,719 yards and 32 touchdown passes. RB Michael Turner scored 10 touchdowns despite not reaching the 1,000 yard mark. The WR tandem of Julio Jones and Roddy White had a phenomenal year. Jones had 79 catches for 1,198 yards with 10 touchdown catches and made his first Pro Bowl. White had 92 catches for 1,351 yards and seven touchdown catches.
Matt Ryan was always clutch in the fourth quarter. He has 16 career fourth quarter comebacks and 23 game winning drives. No matter how much time was left on the clock, he got his team down the field quickly and always got into the end zone or had help from kicker Matt Bryant to kick the game winning field goal.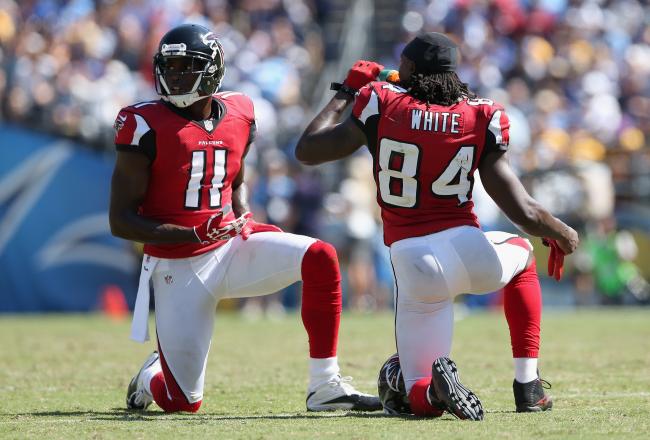 WRs Julio Jones and Roddy White
LB Stephen Nicolas was the leading tackler with 97 and Thomad DeCoud had a team high six interceptions. The defense had a great regular season despite losing Brent Grimes for most of the season.
The Falcons will also try to convince hall of fame TE Tony Gonzalez not to retire. Gonzalez had 93 catches for 930 yards and eight touchdowns this season. He also made his 13th Pro Bowl appearance. Gonzalez holds the records for TD receptions (107) and total receiving yards (14,268) by a tight end.
It will be an interesting offseason for Atlanta. They can put the right pieces together from the draft and free agency to get over the playoff hump and make the Super Bowl. The Falcons will have to get through contenders such as San Francisco and Green Bay if they want to hoist a Lombardi Trophy.
It was a fun season and I enjoyed covering the Atlanta Falcons. I will also cover their free agency and what they do on draft night. So until then, Rise Up Atlanta!!!-Yuriy A.