The Atlanta Falcons improve to 2-0 with their 27-21 victory over the 1-0 Denver Broncos. This was Broncos' QB Peyton Manning's first road loss and his official first loss as the QB for Denver. The Falcons defense put pressure on Manning all game long as they had 3 interceptions in the first half. It was a great day for the defense as they're playing without starting CB Brent Grimes as he is out for the season due to injury.
Falcons' QB Matt Ryan
Falcons' QB Matt Ryan went 24/36 for 219 yards and 2 touchdowns. WR Roddy White caught 8 passes for 102 yards and 1 touchdown. TE Tony Gonalez caught 7 passes for 70 yards and 1 touchdown. RB Michael Turner had an off night as he ran the ball 17 times for 42 yards but did run for a touchdown.
Atlanta's defense also had a great day on defense. Linebacker Sean Weatherspoon had 10 total tackles and 1 fumble recovery. Linebacker Stephen Nicholas and safety William Moore each had 8 tackles. CB Asante Samuel had 7 total tackles. They fought hard and earned their 4 turnovers against Peyton Manning in the first half.
Broncos' QB Peyton Manning went 24/37 for 241 yards, threw 1 touchdown, and 3 interceptions. WR Demaryius Thomas caught 8 passes for 78 yards and 1 touchdown. RB Willis McGahee carried the ball 22 times for 113 yards and 2 touchdowns. Denver rallied in the second half but just fell short in the fourth quarter.
Peyton Manning had a second half comeback leading the Broncos by adding 2 touchdowns from RB Willis McGahee but it was in the end that Atlanta had good clock management and a first down run by RB Michael Turner that sealed the game for the Falcons. Atlanta constantly kept the chains moving that stopped a Broncos comeback.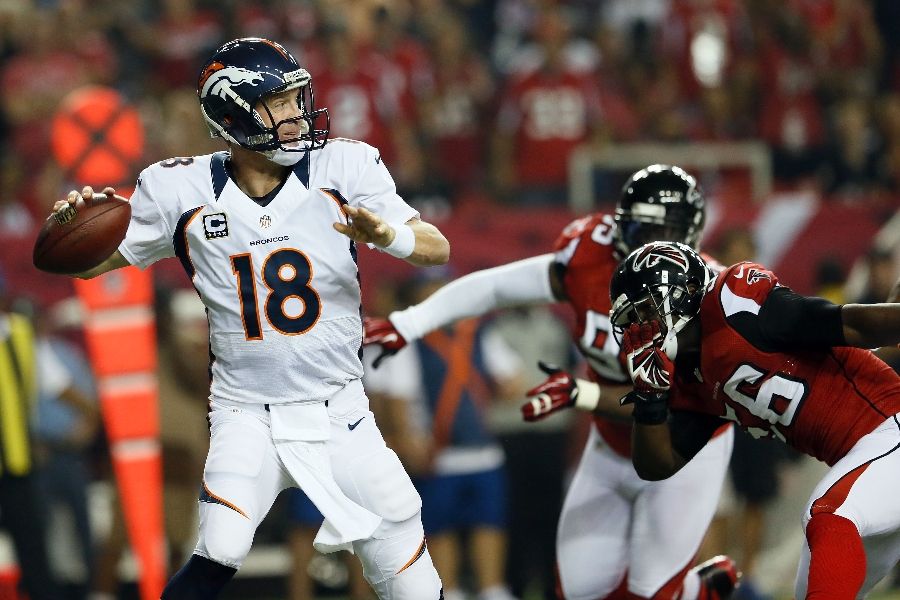 Broncos' QB Peyton Manning facing pressure from Atlanta's defense
Once again, there was controversy surrounding the replacement referees. For the majority of the game, they made the right calls but it appeared that they didn't know how to take control of the game and what decisions to make. Review of many plays in the first half was a big distraction as it took almost an hour and a half to reach halftime. Nonetheless, the NFL looks to reach a new deal with their officials and get them back on the field soon.
Atlanta now heads to San Diego to face the 2-0 Chargers in Week 3. This is the third straight AFC West opponent the Falcons are going to face. The Chargers are looking to get starting RB Ryan Matthews back from a clavicle injury that was sustained in the preseason. It should be a great offensive showdown between two great QBs in Matt Ryan and Philip Rivers.
Once again, thank you for tuning in to my blog covering your Atlanta Falcons and I look forward to continuing to watch the Falcons reach much success this season and have a bounce back year from 2011. Keep on the lookout for a blog about the Chargers-Falcons game this Sunday. So until then, GO FALCONS!!!-Yuriy A.