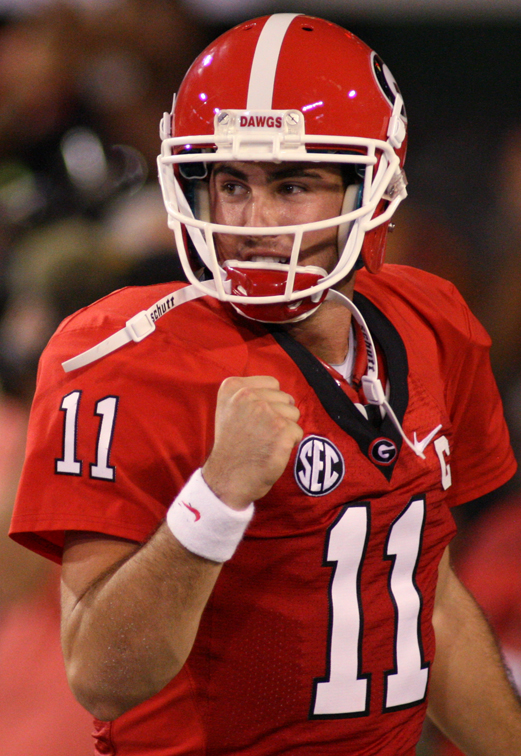 UGA QB Aaron Murray



After winning a close game against Vandy in Nashville last year, Georgia annihilates them 48-3 in Athens in 2012. Going against Green Bay Packers' QB Aaron Rodgers little brother Jordan Rodgers, who is the QB of Vanderbilt, Aaron Murray had the dominant game. UGA controlled the tempo on both sides of the ball for the whole game.
UGA QB Aaron Murray went 18/24 for 250 yards and 2 touchdowns. WR Marlon Brown was Murray's favorite target in this game as he caught 5 catches for 114 yards and a touchdown. Brown averaged 22.8 yards/catch. WR Tavarres King caught 4 passes for 58 yards and a touchdown also. RB Todd Gurley had 16 rushing attempts for 130 yards and 2 touchdowns. Georgia's other freshman RB sensation Keith Marshall ran the ball 10 times for 82 yards and 2 touchdowns. The Dawgs had 567 yards in total offense.
On defense, All- American linebacker Jarvis Jones had 7 tackles and 1 sack. Amarlo Herrera had 8 tackles. The UGA defense also forced and recovered a fumble. They continue to show their trend as a top 5 defense. Defensive coordinator Todd Grantham continues to install an aggressive defense.
Vanderbilt QB Jordan Rodgers went 13/23 for 218 yards. WR Jordan Matthews caught 8 passes for 119 yards. RB Zac Stacy had 12 rushing attempts for 83 yards. The offense was dismal on 3rd down as they were 2-14. They only had 337 yards in total offense. It was obviously a rough day for the Commodores.
UGA RB Todd Gurley
The Georgia Bulldogs add another win to their total and look forward to facing the 3-1 Tennessee Volunteers in Athens next week. It will be a showdown of the two best quarterbacks in the SEC, Aaron Murray and Tyler Bray. Bray is said to have the strongest arm in the conference. Nontheless, it should be a great and close game with nothing but smashmouth SEC football involved. UGA hopes to capitalize on that game as they face #6 ranked South Carolina in two weeks.
It was another great week to be a Bulldog and hopefully UGA continues to show why they're the #5 team in the country against Tennessee next week. Keep on tuning in to my blogs UGA Nation. So until then, GO DAWGS!!!-Yuriy A.