UGA QB Aaron Murray broke the school record for touchdown passes
It was a tough, grinding game for the Georgia Bulldogs in Lexington as they defeated the Kentucky Wildcats 29-24. The Wildcats came into the game with a dreadful 1-6 record and were looking to upset the #11 ranked, 5-1 Bulldogs. Kentucky fought and clawed throughout the whole game but it was Georgia who came out on top. Kentucky gave Georgia trouble in 2011 as the Dawgs won the game 19-10 in Athens to clinch the SEC East title.
Georgia QB Aaron Murray had a phenomenal game as he went 30/38 for 427 yards and 4 touchdown passes. He passed QB David Greene for all time touchdown passes in UGA history. WR Tavarres King caught 9 catches for 188 yards and 2 touchdowns. WR Malcolm Mitchell had 9 catches for 103 yards. It was another rough game for Georgia's running game as Todd Gurley ran the ball 12 times for only 47 yards. The Bulldogs' other freshman RB, Keith Marshall, only had six rushing attempts for 23 yards. The Dawgs had 504 yards in total offense.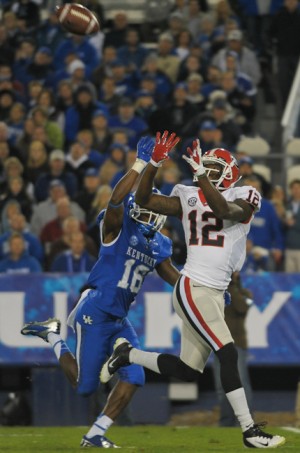 WR Tavarres King dominated the Kentucky defense
Kentucky QB Jalen Whitlow went 9/13 for only 86 yards and no touchdown passes. RB Jonathan George had 12 rushing attempts for 87 yards and RB Raymond Sanders had 18 attemps for 72 yards and one touchdown. They only had 329 yards in total offense but committed no turnovers in the game.
Georgia's defense seems to have taken a step back since getting returning starters Alec Ogletree and Bacarri Rambo back from suspensions. Ever since the South Carolina game two weeks ago, they have been giving up big plays that is unusual coming from one of the best defensive units in the nation. Defensive coordinator Todd Grantham will have to make the right adjustments so there will be no more mental or physical errors for the rest of the season as the competition gets tougher. One of these tests will be against the #2 ranked Florida Gators next week. There are as many as four potential first round NFL draft picks on this defense such as Jarvis Jones, John Jenkins, Bacarri Rambo, and Alec Ogletree. There shouldn't be so many problems on defense with a core group of talent such as these players. I think the right adjustments will be made and they will be well prepared against a high powered Florida offense next week.
Georgia improves to 6-1 and are going to face the undefeated Florida Gators in Jacksonville next week. The Gators dominated South Carolina in Gainesville this week, 44-11. The Bulldogs will have to play smart football if they want to take over first place in the SEC East. It should be a battle all game long as both teams battle for SEC supremacy in this heated rivalry. Tune in to my blog next week and hopefully UGA is 7-1. So until then, GO DAWGS!!!-Yuriy A.