The Atlanta Hawks have made a lot of changes this past offseason after a disappointing first round loss in the playoffs to the Boston Celtics. They signed general manager and president of basketball operations Danny Ferry from the San Antonio Spurs to the organization. All-star SG Joe Johnson was dealt to the Brooklyn Nets to clear up cap space. The players received in the trade were Anthony Morrow, DeShawn Stevenson, and Johan Petro. Atlanta also received a couple of draft picks. By dealing away Johnson, that clears up $90 million over the next five years. The Hawks are looking to acquire a superstar player next summer such as Chris Paul or Dwight Howard with this cap space.
PG Jeff Teague
Head coach Larry Drew hasn't declared the official starting lineup yet. There are many scenarios. You can make it Jeff Teague, Anthony Morrow, Kyle Korver, Al Horford, and Josh Smith or Teague, Stevenson, Korver, Smith and Horford. Some of the key players coming off the bench are Lou Williams and Devin Harris. Lou Williams was acquired from Philadelphia and Devin Harris was acquired in a trade with Utah for Marvin Williams. The Marvin Williams experiment never went well at all. He was the second overall pick for Atlanta in the 2005 draft coming out of North Carolina. He never reached his full potential and was eventually a bust for the Hawks. The Hawks passed up on drafting Chris Paul and Deron Williams that year.
Another good move Atlanta made this offseason was resigning PF Ivan Johnson. Johnson was an undrafted free agent out of San Bernardino. He was banned from the Korean Basketball League as a result of his anger problems. The Hawks signed him before the 2011 season started and he made an impact. With his powerful dunks and physical presence in the paint, he brought a lot of energy to the Hawks and became a fan favorite.
In the Draft back in June, the Hawks drafted John Jenkins from Vanderbilt and Mike Scott from Virginia. Jenkins is a SG that is a sharpshooter. He averaged 19 PPG. Jenkins was the best player in the SEC last season. Atlanta has a hand full of guards and Jenkins can be a major contributor and can be a clutch player late in games. Scott is a PF. He averaged 18 PPG and 8 RPG for Virginia.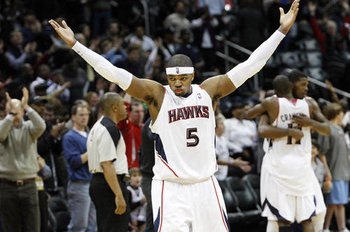 PF Josh Smith
Josh Smith had arguably his best season of his career last season. He averaged 18 PPG and 8 RPG. He was not selected to the all star team and was viewed as the biggest allstar snub. Smith is entering his 9th season in the NBA and is only 26 years old. He can only get better. He is making better decisions on the court and is learning what shots to and not to take. His leadership skills has improved tremendously as head coach Larry Drew made him a team captain last year. Based on what happens this season, we'll see if Smith decides to sign a contract extension with Atlanta. Aside from this, Hawks fans should be excited about what Smith is going to bring to the team this year.
All-star PF Al Horford tore his left pectoral muscle in January and was sidelined for the rest of the season. The Hawks made up for his absence and other players stepped up for him such as Zaza Pachulia and Ivan Johnson. Atlanta was a 5th seed in the playoffs. Atlanta may have been a higher seed had Horford finished the season. Nonetheless, every season he has all-star potential.
Center Al Horford
The Hawks won't be receiving much love from the media but this is a team that can make some noise this season. They were aggressive in the offseason to rebuild their team and find out what the main focal points were to get over the hump in the playoffs. Getting rid of Joe Johnson was the biggest move they made mostly because it gave them an opportunity to get players who can step up and win Atlanta games this season. One big problem with the Hawks last season was that they couldn't close games out. Fourth quarter leads evaporated but they eventually found ways to pull out wins. As a team, they have to play hard for 48 minutes and can't take their foot off the gas.
The Eastern Conference is wide open every year. Everbody believes that Miami is the unanimous number one seed but after that, everything's up for grabs. The Boston Celtics made a good move by signing Jason Terry from the Dallas Mavericks to make up for not being able to resign Ray Allen. They aren't getting any younger, though. One team that did give Atlanta problems last season was the Indiana Pacers. The Chicago Bulls were a threat last season until 2010-11 MVP Derrick Rose suffered a horrible knee injury and won't return til February. Due to this, Atlanta shouldn't have any problem with Chicago.
Hawks fans in Atlanta should expect good basketball out of their team this season. Philips Arena will be ecstatic as usual and I can't wait to see what the team's new acquisitions will do in the Highlight Factory. Hopefully the Hawks will improve on their mistakes from last season and make a big run in the playoffs. Good coaching from Larry Drew and fantastic managerial knowledge from Danny Ferry can make Atlanta a surprise team in the NBA. I cant wait to cover the Hawks this season and it will be another crazy ride, so tune in. Until then, GO HAWKS!!!-Yuriy A.