The Atlanta Hawks came into Oklahoma City looking to bounce back after losing their season opener at home to the Houston Rockets. They did just that. The Hawks didn't have Josh Smith playing because of an injured ankle. This did not stop Atlanta from playing with heart and showing everybody that they can compete with anybody in the NBA. This is the second time the Hawks beat Oklahoma City in the year of 2012. They pulled out a win against the Thunder in March at Philips Arena.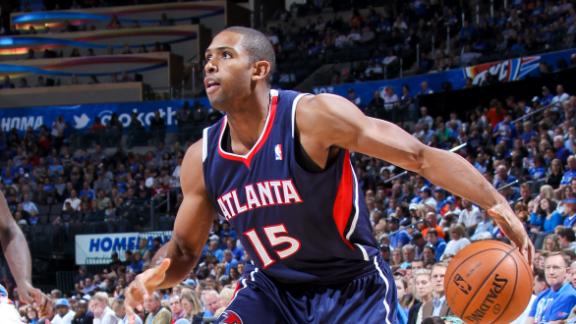 Al Horford helped propel the Hawks to an upset win over OKC
Al Horford had the big game for Atlanta as he had 23 points and 12 rebounds. He also added three assists, one steal and one blocked shot. PG Jeff Teague had 16 points and Lou Williams scored 19 points off the bench. Atlanta has a wide variety of go-to shooters and anybody can be the hero for the Hawks on any given night.
For the Thunder, Kevin Martin was the leading scorer with 28 points off the bench. Three time NBA leading scorer Kevin Durant had 22 points, 12 rebounds and eight assists. PG Russell Westbrook had an off-night with 14 points on 5-18 shooting.
I think that Oklahoma City is vulnerable as the result of them trading reigning Sixth Man of the Year James Harden to the Houston Rockets. Kevin Martin could be a good asset to the team but may not bring the same game that Harden did to the Thunder. I think Harden should of been a starter in OKC. He is now demonstrating that in Houston.
PG Jeff Teague drives aggressively to the basket
As far as the Hawks go, this team looks promising. They bring energy every night and have the attitude of a contender. Josh Smith will continue to display his leadership when he returns from his injury and the clutch sharpshooting from players like Anthony Morrow, DeShawn Stevenson, and Lou Williams will help Atlanta win in late game situations.
The Hawks play the Indiana Pacers on Wednesday, another contender in the Eastern Conference. They will face all-stars David Granger and David West. Indiana gave the Hawks some problems last season. We will see how the new-look Hawks stack up against them. Keep on tuning in to my Hawks blogs as I cover them all season. Get excited Atlanta, it's going to be a great year.-Yuriy A.