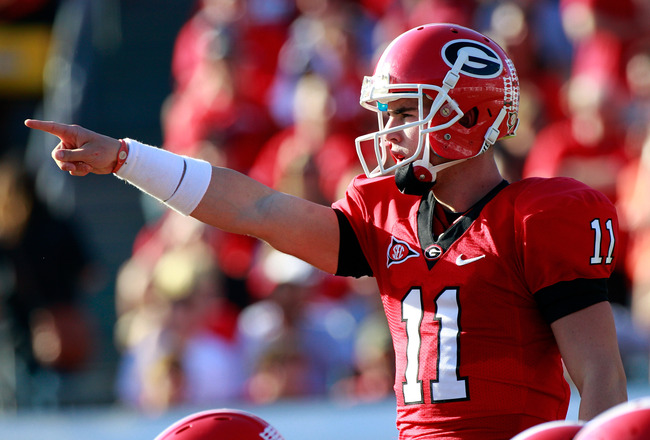 Georgia QB Aaron Murray under center
It was a good day to be a Bulldog. Coming into the game losing 18 out of 21 games to the Gators, Georgia comes out on top. Georgia rallied after a 14-3 deficit. The Dawgs never gave up followed by great leadership from QB Aaron Murray. Mark Richt had great play calling and a great job from the defense were major factors that helped us win this game.
The Traditional Georgia-Florida classic
QB Aaron Murray went 15/34 for 169 yards and 2 TDs with 1 interception. RB Isaiah Crowell had 18 carries for 81 yards even though he suffered an injury in the second half. He eventually came back though. RB Richard Samuel had 17 carries for 58 yards and 1 TD. Not A great day on the ground but Samuel's TD in the redzone late in the 3rd quarter helped Georgia take the 24-20 lead. Contributions also came from WR Tavaress King with 3 catches for 44 yards and 1 TD and Michael Bennett with 2 catches for 25 yards and a TD. Just like the RBs, the WRs didn't have a great day but it still lead the Dawgs to victory. The Georgia offense combined for 354 yards. The Bulldogs dominated with 37:40 on time of possession. The Defense got into the backfield all game and were constantly harassing John Brantley. LB Jarvis Jones went off on the Gators with six tackles, four sacks, and a forced fumble.
On the Gators' side, QB John Brantley went 12/34 for 245 yards and 1 TD. Florida had an awful day on the ground with -19 rushing yards. WR Jeff Reed had 4 catches for 69 yards and 1 TD. Jeff Demps returned a kick 99 yards for a TD. The Florida offense combined for 226 yards. The Gators had two turnovers and those two turnovers were two fumbles lost.
The Gators started the season 4-0, but have lost four straight ever since. They have been dominated by superpower SEC teams such as #1 LSU and #2 Alabama. The 4 game losing streak has all came from SEC teams: LSU, Alabama, Auburn, and Georgia. They look to bounce back at Vanderbilt next week.
Georgia got payback on the Gators and are now rolling on a six game winning streak and improve to a 6-2 record. They play New Mexico State next week which shouldn't be a problem. They have two remaining SEC teams to play. #24 Auburn, and Kentucky. I think head coach Mark Richt's job status is now locked. I think UGA fans can start the SEC Championship game conversation. They are now tied with South Carolina for 1st place in the SEC. I think UGA can win out. Their four remaining games are against New Mexico State, #24 Auburn, Kentucky, & Georgia Tech. I think they can compete for a BCS bowl game. We will see what transpires for the remainder of the season for UGA.
Keep on visiting and reading my blogs every week covering one of your favorite Atlanta Sports teams. I will keep on trying to make my blogs better and better and make the best ones possible. So UGA fans, until then, GO DAWGS!!!-Yuriy